I thought this year I would add a Yarn Spinning Widget to the right side of my blog. This will help me keep track of how much I spin.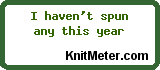 It helps that I finished a skein on New Years Day ~ I already have several yards down.
The big thing for this is that I need to update it each time I complete a skein. That is often where my downfall is. I get excited that it's done and forget to document it. I am really going to work hard to be dedicated to documentation. I am very curious how much I will spin this year.